Andis DVD - Cattle Grooming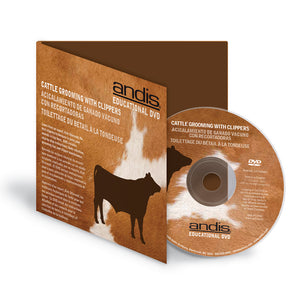 Stierwalt is a member of several breed associations and has produced many champions for the most prestigious national cattle shows and fairs throughout the United States and Canada. He also teaches cattle grooming classes. Several Andis clipper models are featured, including PowerGroom Clipper, Progress Clipper, LightSpeed Clipper and AGC Clippers. The DVD is intended to benefit cattle fitters with any level of experience.

In the DVD, Stierwalt gives detailed procedures showing how to manipulate the different parts of a clipper correctly. Routine tasks like changing the blade drive, installing the hinge assembly, attaching the blade correctly and replacing the blade lock are shown in step-by-step detail. He also provides invaluable techniques for clipper maintenance, including blade cleaning and oiling. Several ways to cool a blade are given.

Viewers benefit from Stierwalt's national prominence and experience by learning his techniques for cattle grooming. Detailed demonstrations include: blocking, blending, free-hand, tipping, back-dragging and show day leg preparation. He demonstrates the best approach for clipping the ears, head and face safely. Danger zones are pointed out—areas where injuries could occur during grooming—and Stierwalt shows the methods he has developed to clip these areas safely.

Run time: 26 minutes.
Description
Kirk Stierwalt demonstrates clipping techniques, divulges grooming tips and shows how to keep your clippers in top condition with simple maintenance routines.
Delivery
When will my order leave?
Same day dispatch for orders placed before 1pm Mon-Fri. Orders placed over the weekend or public holiday will be dispatched next business day.
When will my order arrive?
For New Zealand orders, most parcels arrive 1 to 2 working days after they've left us. Allow an extra day or two for rural delivery.
For Australian orders, estimated delivery is 3 to 7 working days after they've left us.
How much is shipping?
Shipping is estimated by weight and starts from $5. The website works out shipping in checkout, before you pay. 
Are you in stock?
Stock levels on our website are live. What's showing in stock online is physically in stock in our NZ warehouse, ready to ship. Please note we do not work with back-orders.
My delivery question is not answered here
Head to the HELP section, and search for more answers.
Returns & Guarantees
AllGroom is proud to offer the best grooming brands at affordable prices, without compromising service and support. However, if something goes wrong or you are not completely satisfied with a product you've purchased from us, please let us know right away. We stand by our products and we'd like the chance to put it right. 
Can I return what I've purchased?
To request a return, head to our contact page to fill up the form.
By law we don't have to accept change of mind returns, so before you buy, please check with us first if you're not 100% sure if a product matches your needs. Keep in mind a change of mind return is not the same as a warranty return (for a suspected fault or defect), but purchasing the wrong product is considered change of mind. You can also read more about your consumer rights if you change your mind
Is my product covered under warranty?
Most electrical items, such as clippers, trimmers and dryers, come with a 12 month warranty covering manufacturing faults or defects. For more about warranties, click here.
The answer to my returns question is not here
To find out more about warranty claims, returns, guarantees and more, go to the Returns page to check your options, or get in touch for personal service.