Beaumont Foldable Adjustable Table 110cm - Purple
best
seller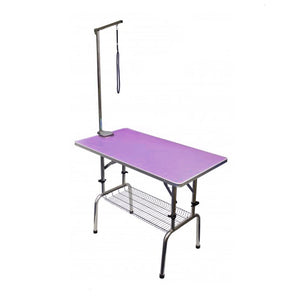 Stable, foldable, adjustable height, portable grooming table that folds for storage and transport. Table top measures 110cm long x 60cm wide. Legs & frame are stainless steel. Also includes a steel storage tray, grooming arm, and grooming loop. Height adjustable from 75cm to 90cm. More details below.
Description
Table type: Foldable Adjustable
Height range: Adjustable from 75cm to 90cm
Table top length: 110cm
Table top width: 60cm
Maximum load: 50kgs
Table net weight: 22kgs
Table top colour: Purple
Grooming loop: Included
Grooming arm: Included
Specifications
Instructions are included in cardboard packing box.
NOTE: Where orders have mixed products (e.g. a table, a clipper, and a shampoo) the table will be shipped separately - you will be provided with two (or more) tracking numbers for your order. Please note that the table may take a couple of extra days to reach you.
Caring for your table
If you look after your table well you can extend its lifetime. At the end of every day, blow or brush fur off the table top, wipe it clean and dry it. Take extra care to blow or brush out fur from around the table also, especially around any moving parts to reduce hair entering the mechanics. Wipe and keep the table dry to avoid rust or stains, paying attention to any stainless steel parts such as the grooming arm.
Delivery
When will my order leave?
Same day dispatch for orders placed before 1pm Mon-Fri. Orders placed over the weekend or public holiday will be dispatched next business day.
When will my order arrive?
For New Zealand orders, most parcels arrive 1 to 2 working days after they've left us. Allow an extra day or two for rural delivery.
For Australian orders, estimated delivery is 3 to 7 working days after they've left us.
How much is shipping?
Shipping is estimated by weight and starts from $5. The website works out shipping in checkout, before you pay. 
Are you in stock?
Stock levels on our website are live. What's showing in stock online is physically in stock in our NZ warehouse, ready to ship. Please note we do not work with back-orders.
My delivery question is not answered here
Head to the HELP section, and search for more answers.
Returns & Guarantees
AllGroom is proud to offer the best grooming brands at affordable prices, without compromising service and support. However, if something goes wrong or you are not completely satisfied with a product you've purchased from us, please let us know right away. We stand by our products and we'd like the chance to put it right. 
Can I return what I've purchased?
To request a return, head to our contact page to fill up the form.
By law we don't have to accept change of mind returns, so before you buy, please check with us first if you're not 100% sure if a product matches your needs. Keep in mind a change of mind return is not the same as a warranty return (for a suspected fault or defect), but purchasing the wrong product is considered change of mind. You can also read more about your consumer rights if you change your mind
Is my product covered under warranty?
Most electrical items, such as clippers, trimmers and dryers, come with a 12 month warranty covering manufacturing faults or defects. For more about warranties, click here.
The answer to my returns question is not here
To find out more about warranty claims, returns, guarantees and more, go to the Returns page to check your options, or get in touch for personal service.