Chris Christensen Big K Black Slicker Brush - Medium
new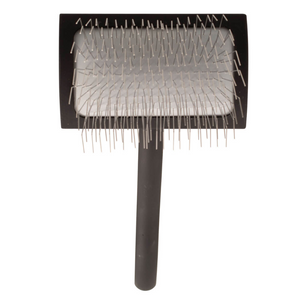 The Chris Christensen Big K Black Slicker Brush was originally designed for the unique needs of the Black Russian Terrier, but there are dozens of breeds that need this brush! Helps detangle and remove knots in long and difficult coats. Reaches the root of hard-to-reach undercoat and thins and separates hairs to create volume. The long, dense bent pins deeply penetrate longer coats and create lift and movement, without scratching. Features a curved back to allow for additional control, movement and direction as well as an extra long ergonomic handle to reduce hand and arm fatigue. Flexible cushion pad is gentle and forgiving. Unique GroomGrip rubber coating is great for using in the bath to prevent the brush from slipping in your hands. Size medium 18.7cm length, 9.6cm x 5.8cm head.

Whats the difference between the Big G and Big K?
The Big G has 40% more pins than the Big K. However, that does not mean that the Big K isn't as good as the Big G. They can both be used on different types of coats and for different purposes. Less pins allows the Big K to penetrate deep into a denser coat while the Big G can do more work per stroke. Big G Slicker Brush is great for fluffing curly and cottony coats, whereas the Big K works perfectly on long and stubborn hair.
Delivery
When will my order leave?
Same day dispatch for orders placed before 1pm Mon-Fri. Orders placed over the weekend or public holiday will be dispatched next business day.
When will my order arrive?
For New Zealand orders, most parcels arrive 1 to 2 working days after they've left us. Allow an extra day or two for rural delivery.
For Australian orders, estimated delivery is 3 to 7 working days after they've left us.
How much is shipping?
Shipping is estimated by weight and starts from $5. The website works out shipping in checkout, before you pay. 
Are you in stock?
Stock levels on our website are live. What's showing in stock online is physically in stock in our NZ warehouse, ready to ship. Please note we do not work with back-orders.
My delivery question is not answered here
Head to the HELP section, and search for more answers.
Returns & Guarantees
AllGroom is proud to offer the best grooming brands at affordable prices, without compromising service and support. However, if something goes wrong or you are not completely satisfied with a product you've purchased from us, please let us know right away. We stand by our products and we'd like the chance to put it right. 
Can I return what I've purchased?
To request a return, head to our contact page to fill up the form.
By law we don't have to accept change of mind returns, so before you buy, please check with us first if you're not 100% sure if a product matches your needs. Keep in mind a change of mind return is not the same as a warranty return (for a suspected fault or defect), but purchasing the wrong product is considered change of mind. You can also read more about your consumer rights if you change your mind
Is my product covered under warranty?
Most electrical items, such as clippers, trimmers and dryers, come with a 12 month warranty covering manufacturing faults or defects. For more about warranties, click here.
The answer to my returns question is not here
To find out more about warranty claims, returns, guarantees and more, go to the Returns page to check your options, or get in touch for personal service.