Geib Entrée Gold Bronze 8.5" 26 Tooth Thinner - Chunker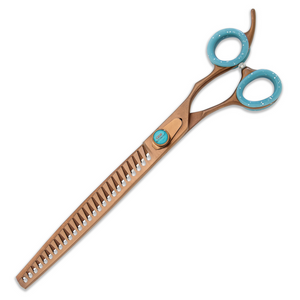 The latest edition to the Entrée series from Geib. The Geib Entrée Gold 8.5" 26 Tooth Thinner - Chunker features an eye catching antique gold finish complete with an adjustable turquoise pivot screw and matching glitter removable thumb inserts. Fine edged chunker for sculpturing and finishing with a nice long blade. 26 Fishtail teeth coupled with a fine convex edge. Swedge shaped spine to the blade giving added stability, for the ability to sweep over long lines, soften and give extra style. Like all Entrée series, this scissor is excellent quality and budget friendly. Ergonomically designed for comfort and a smooth easy action. 
Description
Geib scissored are handmade. Like raw silk, minor marks or blemishes may occasionally be seen. These will not impact the life or performance of your scissor. Such differences have to be accepted as is the case with any hand-made products. Please take proper care of scissors (see the guide above).
Geib measurements include the finger rest.
Please take proper care of scissors. Read the Scissor Care > instructions.
IMPORTANT for less experienced users: Watch the thinning scissors technique video to avoid the teeth of your thinners catching during use (note this is not covered by the warranty so correct technique is important to avoid damage).
Delivery
When will my order leave?
Same day dispatch for orders placed before 1pm Mon-Fri. Orders placed over the weekend or public holiday will be dispatched next business day.
When will my order arrive?
For New Zealand orders, most parcels arrive 1 to 2 working days after they've left us. Allow an extra day or two for rural delivery.
For Australian orders, estimated delivery is 3 to 7 working days after they've left us.
How much is shipping?
Shipping is estimated by weight and starts from $5. The website works out shipping in checkout, before you pay. 
Are you in stock?
Stock levels on our website are live. What's showing in stock online is physically in stock in our NZ warehouse, ready to ship. Please note we do not work with back-orders.
My delivery question is not answered here
Head to the HELP section, and search for more answers.
Returns & Guarantees
AllGroom is proud to offer the best grooming brands at affordable prices, without compromising service and support. However, if something goes wrong or you are not completely satisfied with a product you've purchased from us, please let us know right away. We stand by our products and we'd like the chance to put it right. 
Can I return what I've purchased?
To request a return, head to our contact page to fill up the form.
By law we don't have to accept change of mind returns, so before you buy, please check with us first if you're not 100% sure if a product matches your needs. Keep in mind a change of mind return is not the same as a warranty return (for a suspected fault or defect), but purchasing the wrong product is considered change of mind. You can also read more about your consumer rights if you change your mind
Is my product covered under warranty?
Most electrical items, such as clippers, trimmers and dryers, come with a 12 month warranty covering manufacturing faults or defects. For more about warranties, click here.
The answer to my returns question is not here
To find out more about warranty claims, returns, guarantees and more, go to the Returns page to check your options, or get in touch for personal service.