Groomers Helper Safety Loop - 1.5cm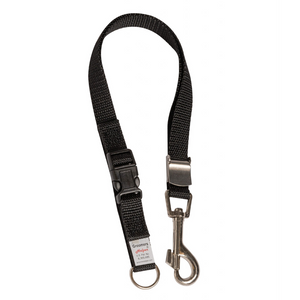 Groomers Helper is a revolutionary pet safety and positioning system that gently holds the pet in place on the grooming table, restricting range of movement. Whether you need to stay focused to clip around a dog's eyes or need both hands free to cut nails, the easy-to-assemble system eliminates the pet's ability and desire to struggle, sit, dance around, drop its head or leap off the table. In addition to increasing safety, the time needed to complete a groom is reduced substantially. Flexible assembly adjusts to fit three different configurations, making it versatile enough to help tackle everything from dematting coats to clipping nails.

The Groomers Helper Safety Loop - 1.5cm is used to groom all dogs large and small. Designed to work specifically with Groomers Helper professional and starter sets. Comes with a tight locking Stainless Steel Clasp and a D-Ring for connecting the loop to the Groomers Helper Tether. The only patented loop in the Industry, includes a heavy-duty emergency release buckle and webbing that won't unravel once cut. 1.5cm thick and 50cm total length.
Description
The Groomers Helper system virtually eliminates the hazards to both the pet and groomer by preventing biting, calming the pet and impeding its leaping off the table. It also reduces needing a second groomer to assist with difficult tasks such as clipping nails, and greatly reduces the time required for grooming because the animal is gently held in position and unable – and therefore disinclined – to constantly move around.
Specifications
Step 1: Place the Groomers Helper clamp around your grooming arm and tighten it at the appropriate height. NOTE: The Groomers Helper Clamp has been designed to fit square and round grooming arms from 1.3 to 3cm. The tether (rope) should face the pet and the adjusting knob should face you. If you are right handed the slide button should be to your right. Left handed the slide button should be on your left.

Step 2: Attach the Groomers Helper Loop to the pet. The loop should fit snugly around the neck. Use the stainless steel cam lock to size down the loop to the back of the pet's neck. You should be able to get two fingers between the loop and the pet's neck. In the event of an emergency such as a seizure you may release the pet immediately by using the quick release buckle on the loop.

Step 3: Spin the loop around and connect it to the top of the grooming arm.

Step 4: Attach the tether to the D-Ring on the Groomers Helper Loop.

Step 5: Adjust the arm's height so that the pet is standing normally with just a little slack. You can now pull the tether (rope) in gently, bringing the pet closer to the arm and lock the slide button when you reach the desired distance from the grooming arm. The Groomers Helper pulls the loop away from the pet's trachea, eliminating choking.

NOTE: At first, use with a calm pet so you can become acquainted with your Groomers Helper. You may develop a rapport with them by gently pulling in the tether. You will feel that they are pulling back, which is their natural instinct. Let them pull back and think they won the "Tug-of-War" before you lock the tether. They usually calm down after the second or third "win" and you are now playing with them. It is easy to now make friends. Most pets respond favorably and calm down when they realize they are in restraints and not fighting you. As the pet calms down you may release more and more, until almost no restraint is needed. For general grooming let the pet just relax with slack in the tether. Only enough slack so they cannot chew the tether.

CAUTION: Do not leave a pet in restraints unattended. Do not allow a pet to struggle in restraints. If a pet does not calm down, release it immediately. Do not put your hands in front of the pet's muzzle, where it can be bitten.
Delivery
When will my order leave?
Same day dispatch for orders placed before 1pm Mon-Fri. Orders placed over the weekend or public holiday will be dispatched next business day.
When will my order arrive?
For New Zealand orders, most parcels arrive 1 to 2 working days after they've left us. Allow an extra day or two for rural delivery.
For Australian orders, estimated delivery is 3 to 7 working days after they've left us.
How much is shipping?
Shipping is estimated by weight and starts from $5. The website works out shipping in checkout, before you pay. 
Are you in stock?
Stock levels on our website are live. What's showing in stock online is physically in stock in our NZ warehouse, ready to ship. Please note we do not work with back-orders.
My delivery question is not answered here
Head to the HELP section, and search for more answers.
Returns & Guarantees
AllGroom is proud to offer the best grooming brands at affordable prices, without compromising service and support. However, if something goes wrong or you are not completely satisfied with a product you've purchased from us, please let us know right away. We stand by our products and we'd like the chance to put it right. 
Can I return what I've purchased?
To request a return, head to our contact page to fill up the form.
By law we don't have to accept change of mind returns, so before you buy, please check with us first if you're not 100% sure if a product matches your needs. Keep in mind a change of mind return is not the same as a warranty return (for a suspected fault or defect), but purchasing the wrong product is considered change of mind. You can also read more about your consumer rights if you change your mind
Is my product covered under warranty?
Most electrical items, such as clippers, trimmers and dryers, come with a 12 month warranty covering manufacturing faults or defects. For more about warranties, click here.
The answer to my returns question is not here
To find out more about warranty claims, returns, guarantees and more, go to the Returns page to check your options, or get in touch for personal service.