Happy Hoodie Large Single Pack Pink
The one and only, genuine Happy Hoodie dog snood. This is the single pack size Large in Pink to fit medium and large breed dogs (check the full breed list below before you order). Like ear muffs for pets! Immediate calming 'swaddling' effect for less stress and improved behaviour within seconds. Protects ears from noise and air when using dryers and clippers.
"It's UNBELIEVEABLE the difference Happy Hoodie makes on the dogs! ... extremely sensitive dogs that wouldn't stand for the force dryer now don't give it a second thought. Amazing. Gotta dog that hates its toenails being done, use the Hoodie!! Thanks for this great product." - Terry Ford, Groomer
Find out more below
Description
Once you've tried them, you'll find them a must-have for every grooming situation, handy for home and Vet use too.
What are Happy Hoodies used for?
Mainly used during drying, so noise-sensitive dogs and cats feel calmer, settled and less stressed, plus they protect ears from water or air entering the ear canal during washing and drying. Also for for pets who won't accept the dryer on their face, they also speed up drying time by wicking excess water from the neck, ears and face - but they do much more.
They muffle sounds for everything from dryers and clippers to fireworks, help soothe and settle anxious pets (yes, even cats) used during any stressful situation. Use during nail clipping for touch-sensitive pets. Put on in the car for pets with travel anxiety. Use for show dogs to keep long ears and hair out of water bowls. Aids recovery to keep dogs from accessing stitches around the ears and neck. Popular with Vets for settling anxious pets on the table, for applying pressure to help prevent hematomas and for recovery after ear surgery. Also keeps temperature-sensitive pets warm during winter walks.
What size should I get?
Extra Small fits teacup to toy breeds and cats (Teacup Poodle Teacup Shih Tzu, Yorkie, Min Pin, Maltese Chihuahua, Pomeranian and Cats).
Small fits cats, toy and small - medium breeds (Toy and Miniature Poodle, Shih Tzu, Maltese, Pug, Jack Russel, Cavoodle etc)
Large fits medium to large breeds (Border Collie, Westie, Spaniels, Lhasa, Golden Retriever, Labradors, Huskys etc).
Extra Large fits the big guys (Newfys, Malamutes etc) or gives a looser fit for large breeds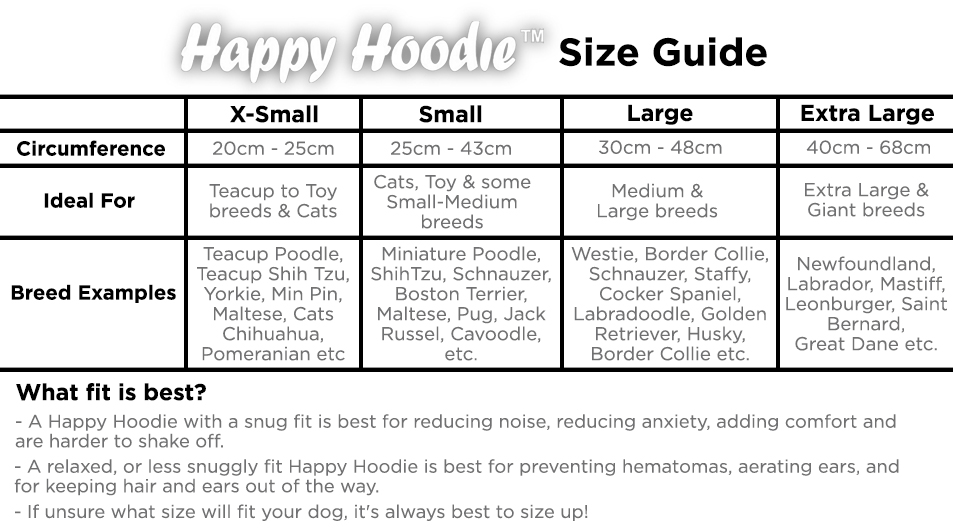 Specifications
How to use
Simpy place the Happy Hoodie over the head down to the neck. Place your pets ears against their head, so air and water can't get in to the ear canal. Then pull the Happy Hoodie back up over to cover the ears.
If you prefer to aerate the ears, rather than fold the ears down, leave the ear canal open, and either fold the Happy Hoodie over to leave the ear canals open to the air, or partly cover them with the Happy Hoodie.
Machine washable, ideally in cold water. Dry flat. Avoid putting in the dryer as it can heat up and degrade the elastic in the material. Quick-dry material but it is thick, so it's recommended to have at least 2 sets of Happy Hoodies in your salon so there's always one on hand.
Reviews
From Groomers:
"Holy Happy Hoodie!!!! I just started using your product, and I thought I had seen a difference in the dogs behavior, however today I am gonna shout your name from the rooftop!!! I had my regular maltese client in, hates the drying process, and just makes both our lives miserable. He is a screaming, twisting little stinker. I popped on that Happy Hoodie and WA-LAH! I had me an angel! He was very well behaved for the rest of his groom as well, I believe it was because he wasn't worked up over the drying process. Thank you, my grooming life and my clients are better for your product!!!"
Sherri Weber, owner The Doggie D'tail Shop
"It's UNBELIEVABLE the difference Happy Hoodie makes on the dogs! After a year of using this product, the extremely sensitive dogs that wouldn't stand for the force dryer now don't give it a second thought. Amazing. It's great for "wicking out" the excess water on the head and ears too. Gotta dog that hates its toenails being done, use the Hoodie!! Thanks for this great product".
Terry Ford - grooming 35 years, owner Furry Friends Kennel and Grooming
From Veterinarians
"I see the benefit in post operative situations where the ear has undergone a surgical procedure. All too often as a dog recovers from anesthesia with sutures in the ear flap, the patient feels the natural urge to shake his head. In the past theis often led to trauma to the ear from flopping and bleeding when shaken. Now with the happy hoodie the ear feels more secure and the flopping is not possible to traumatize the ear."
Sandra Snyder DVM, Payson Pet Care Veterinary Clinic
From home users
"I just want to say how pleased I am with your wonderful Hoodies. We put the Hoodie in action right away, testing all three dog's comfort level with the force dryer. The results were truly amazing, historically I have to have full body contact, to ease their stress while using the dryer, for the first time ever I was able to stand back to dry them off. Yea! Our Dana, who is a puppy mill survivor, of five years of terror, was not bothered at all by typical sounds of combs and scissors bumping on the grooming table. Double Yea! Another extra perk of the Hoodie is, Dana now sits so still, I'm able to easily trim her long cocker spaniel ears perfectly even, as the hang so nicely from under the Hoodie. Triple Yea! I will be spreading the word about your fantastic product and great customer service to everyone I know."
Sharon Kley
"We have a four year old English Springer Spaniel that we got from a family that couldn't exercise him. Roscoe was almost a year old when he came to live with us. He gets very excited/nervous when he sees us load our car for a trip anywhere. He usually gets to go with us and he pants,shivers and is just annoying. Our vet (Thom Myers in Heber) suggested we get the happy hoodie. I will let you know what happens with the car rides. I wanted you to know that yesterday after receiving the hoodie, I took Roscoe over to my parents house. He isn't bad, but again, he is excited and runs around in the house a little too much so I put the hoodie on him and told him to lie down next to me. Immediately he got this calm look on his face and he laid down until I took the "magic hoodie" off of him. I can't wait to try it in the car! Thank you"
Debbie
Delivery
When will my order leave?
Same day dispatch for orders placed before 1pm Mon-Fri. Orders placed over the weekend or public holiday will be dispatched next business day.
When will my order arrive?
For New Zealand orders, most parcels arrive 1 to 2 working days after they've left us. Allow an extra day or two for rural delivery.
For Australian orders, estimated delivery is 3 to 7 working days after they've left us.
How much is shipping?
Shipping is estimated by weight and starts from $5. The website works out shipping in checkout, before you pay. 
Are you in stock?
Stock levels on our website are live. What's showing in stock online is physically in stock in our NZ warehouse, ready to ship. Please note we do not work with back-orders.
My delivery question is not answered here
Head to the HELP section, and search for more answers.
Returns & Guarantees
AllGroom is proud to offer the best grooming brands at affordable prices, without compromising service and support. However, if something goes wrong or you are not completely satisfied with a product you've purchased from us, please let us know right away. We stand by our products and we'd like the chance to put it right. 
Can I return what I've purchased?
To request a return, head to our contact page to fill up the form.
By law we don't have to accept change of mind returns, so before you buy, please check with us first if you're not 100% sure if a product matches your needs. Keep in mind a change of mind return is not the same as a warranty return (for a suspected fault or defect), but purchasing the wrong product is considered change of mind. You can also read more about your consumer rights if you change your mind
Is my product covered under warranty?
Most electrical items, such as clippers, trimmers and dryers, come with a 12 month warranty covering manufacturing faults or defects. For more about warranties, click here.
The answer to my returns question is not here
To find out more about warranty claims, returns, guarantees and more, go to the Returns page to check your options, or get in touch for personal service.