ProGroom ProMagic Concentrate - 500ml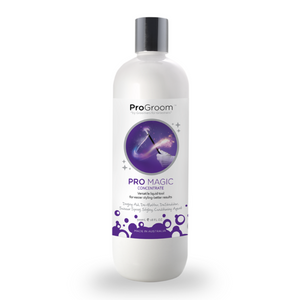 ProGroom's ProMagic is a multi-purpose spray that detangles and conditions while speeding up drying time for busy groomers. No dilution required. This concentrated formula is the magic wand groomers love. 
Speeds up dry time. Excellent detangler and brushing aid. Protects the coat from heat damage and reduces breakage from tool use on frequently brushed coats. Adds shine. Protective layer helps repel dirt and odours. Controls static for high-groom coats, silky and wool coats. Helps maintain styling for longer post-groom and in the showring.
Find out more below.
Description
USED FOR: De-matting, styling aid, conditioning agent, detangling, drying spray, use on dogs, cats and horses.
Specifications
ProGroom ProMagic Concentrate Directions for Use
We recommend diluting with distilled water. Always add product to clean applicator bottles. Suggested dilutions can be adjusted according to coat type. Always use diluted products within 72 hours

SUGGESTED DILUTIONS:

Matted or Packed Undercoat: Dilute 1 part PM to 10 parts conditioner (add 5mls to 50mls undiluted conditioner.) Then dilute Conditioner as normal. Work into coat, for best results leave 2-3 minutes prior to rinsing.

Heavier Grooming Spray: Dilute 1 part PM to 10 parts water ( add 50mls to 500ml bottle.) As a grooming spray apply to freshly washed and towelled dry hair

Drying Spray: Dilute 1 part PM to 20 parts water (add 25mls to 500ml bottle.) Spray onto clean, towel dried coat before using air, force or fluff dryer.

Detangler: Dilute 1 part PM to 20 parts water (add 25mls to 500 ml bottle.) Spray onto tangled areas this can be either a dry or damp coat.

Finishing spray: Dilute 1 part PM to 25 parts water (add 20mls to 500ml bottle.) Spritz lightly over dry coat and brush or comb through to make incredible shine and beautiful colours.

Scissor Spray: Dilute 1 part PM to 30 parts water ( add 15mls to 500 ml bottle.) For ease of scissoring from a distance lightly mist coat onto dry coat.

SAFETY CONSIDERATIONS:

Always read and follow the instructions carefully, including any warnings for use.
It is important to avoid contact with the eyes.
If a dog is squinting or rubbing at eyes, flush gently with tepid water for 5 minutes.
Always use diluted product within 24-48 hours.

PRODUCT STORAGE:

We recommend when you open a product for the first time that you write the opening date on the bottle.
Opened products must be used within the opening time suggested on individual bottle label.
Keep lids on products when not in use and use the product within the recommended time.
Avoid storing your products in the direct sunlight or near sources of heat and choose dry, cool storage areas where possible.
Regularly wash and sterilize all applicators and dilution bottles thoroughly.
Allow applicators to dry thoroughly before use.
Delivery
When will my order leave?
Same day dispatch for orders placed before 1pm Mon-Fri. Orders placed over the weekend or public holiday will be dispatched next business day.
When will my order arrive?
For New Zealand orders, most parcels arrive 1 to 2 working days after they've left us. Allow an extra day or two for rural delivery.
For Australian orders, estimated delivery is 3 to 7 working days after they've left us.
How much is shipping?
Shipping is estimated by weight and starts from $5. The website works out shipping in checkout, before you pay. 
Are you in stock?
Stock levels on our website are live. What's showing in stock online is physically in stock in our NZ warehouse, ready to ship. Please note we do not work with back-orders.
My delivery question is not answered here
Head to the HELP section, and search for more answers.
Returns & Guarantees
AllGroom is proud to offer the best grooming brands at affordable prices, without compromising service and support. However, if something goes wrong or you are not completely satisfied with a product you've purchased from us, please let us know right away. We stand by our products and we'd like the chance to put it right. 
Can I return what I've purchased?
To request a return, head to our contact page to fill up the form.
By law we don't have to accept change of mind returns, so before you buy, please check with us first if you're not 100% sure if a product matches your needs. Keep in mind a change of mind return is not the same as a warranty return (for a suspected fault or defect), but purchasing the wrong product is considered change of mind. You can also read more about your consumer rights if you change your mind
Is my product covered under warranty?
Most electrical items, such as clippers, trimmers and dryers, come with a 12 month warranty covering manufacturing faults or defects. For more about warranties, click here.
The answer to my returns question is not here
To find out more about warranty claims, returns, guarantees and more, go to the Returns page to check your options, or get in touch for personal service.