Vetcare Sedapet 25ml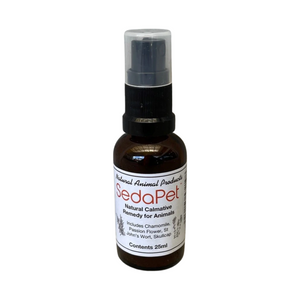 Sedapet is a natural calmative remedy suitable for all animals. Designed by a holistic vet and manufactured in New Zealand by a herbalist, Sedapet uses the highest quality herbal ingredients. Ideal for occasions when your pet may be stressed or anxious, such as vet visits, during grooming, and loud noises such as thunderstorms or fireworks.
Description
Ingredients:
- Chamomile
- St John's Wort
- Skullcap
- Passionflower
Signs that your dog is fearful or anxious can include shaking, dribbling, whining, howling, running away to a hiding place, inappropriate soiling inside, not eating, not wanting to go for a walk, restless and unable to settle, pacing and destructive or frenzied activiy.
Specifications
Directions for use: SedaPet can be initiated at the first signs of stress. 2 sprays inside the mouth or lip as required. For stress prevention, administer half an hour before events. Repeat if necessary. The sooner you can treat your pet and get them to settle the easier it will be to calm them. Waiting until they are in full-blown terror will make reducing their stress response harder.
Delivery
When will my order leave?
Same day dispatch for orders placed before 1pm Mon-Fri. Orders placed over the weekend or public holiday will be dispatched next business day.
When will my order arrive?
For New Zealand orders, most parcels arrive 1 to 2 working days after they've left us. Allow an extra day or two for rural delivery.
For Australian orders, estimated delivery is 3 to 7 working days after they've left us.
How much is shipping?
Shipping is estimated by weight and starts from $5. The website works out shipping in checkout, before you pay. 
Are you in stock?
Stock levels on our website are live. What's showing in stock online is physically in stock in our NZ warehouse, ready to ship. Please note we do not work with back-orders.
My delivery question is not answered here
Head to the HELP section, and search for more answers.
Returns & Guarantees
AllGroom is proud to offer the best grooming brands at affordable prices, without compromising service and support. However, if something goes wrong or you are not completely satisfied with a product you've purchased from us, please let us know right away. We stand by our products and we'd like the chance to put it right. 
Can I return what I've purchased?
To request a return, head to our contact page to fill up the form.
By law we don't have to accept change of mind returns, so before you buy, please check with us first if you're not 100% sure if a product matches your needs. Keep in mind a change of mind return is not the same as a warranty return (for a suspected fault or defect), but purchasing the wrong product is considered change of mind. You can also read more about your consumer rights if you change your mind
Is my product covered under warranty?
Most electrical items, such as clippers, trimmers and dryers, come with a 12 month warranty covering manufacturing faults or defects. For more about warranties, click here.
The answer to my returns question is not here
To find out more about warranty claims, returns, guarantees and more, go to the Returns page to check your options, or get in touch for personal service.