Wahl Blade Ice Spray 397g
best
seller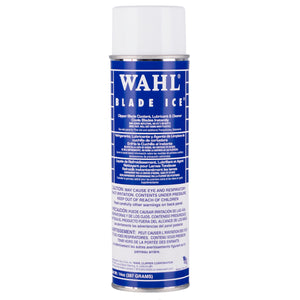 Wahl Blade Ice Spray is designed for all brand clippers and trimmers with detachable blades. Cools clipper blades instantly. A coolant, lubricant and cleaner in one. To Use: Spray on blades occasionally during use when blades heat up, or to prevent friction and heat. Helps extend the life of your blades. Note: Will lightly lubricate your blade but does not replace the need for blade oil, especially before use, after cleaning, and before storing any blade. Always wipe off excess before continuing to clip.
Specifications
Caution: May cause mild eye irritation. Can cause burning sensation, tearing, and redness. Inhalation may be irritating to eyes, nose and respiratory tract. Can cause dizziness, headaches and incoordination. Incidental contact is not expected to cause skin irritation. Exposure by ingestion is unlikely since an aerosol, but if ingested, the following may occur: Can cause dizziness, faintness, headaches, and incoordination. Can be fatal if swallowed. May affect the following organs upon prolonged or repeated overexposure: Liver. Kidneys. Nervous system. Heart and/or circulatory system.
First Aid:
Eyes & Skin: Immediately flush with plenty of water for at least 15 minutes. Get prompt medical attention.
Inhalation: Remove to fresh air. If symptoms develop, seek immediate medical attention. If not breathing, give artificial respiration.
Ingestion: In the unlikely event of swallowing: Get medical attention. Victim should drink a small amount of water to dilute stomach content, and if vomiting occurs have victim lean forward to reduce risk of aspiration. Never give anything by mouth to an unconscious person.
Warning: Product is not required to be labeled as flammable as described in 16 CFR 1500.45. Keep away from heat, sparks, and flames. Do not puncture or incinerate container. Do not expose to heat or store at temperatures above 120°F (49°C) as container may burst. Avoid prolonged exposure to sunlight. Use with adequate ventilation. KEEP OUT OF REACH OF CHILDREN.
Delivery
When will my order leave?
Same day dispatch for orders placed before 1pm Mon-Fri. Orders placed over the weekend or public holiday will be dispatched next business day.
When will my order arrive?
For New Zealand orders, most parcels arrive 1 to 2 working days after they've left us. Allow an extra day or two for rural delivery.
For Australian orders, estimated delivery is 3 to 7 working days after they've left us.
How much is shipping?
Shipping is estimated by weight and starts from $5. The website works out shipping in checkout, before you pay. 
Are you in stock?
Stock levels on our website are live. What's showing in stock online is physically in stock in our NZ warehouse, ready to ship. Please note we do not work with back-orders.
My delivery question is not answered here
Head to the HELP section, and search for more answers.
Returns & Guarantees
AllGroom is proud to offer the best grooming brands at affordable prices, without compromising service and support. However, if something goes wrong or you are not completely satisfied with a product you've purchased from us, please let us know right away. We stand by our products and we'd like the chance to put it right. 
Can I return what I've purchased?
To request a return, head to our contact page to fill up the form.
By law we don't have to accept change of mind returns, so before you buy, please check with us first if you're not 100% sure if a product matches your needs. Keep in mind a change of mind return is not the same as a warranty return (for a suspected fault or defect), but purchasing the wrong product is considered change of mind. You can also read more about your consumer rights if you change your mind
Is my product covered under warranty?
Most electrical items, such as clippers, trimmers and dryers, come with a 12 month warranty covering manufacturing faults or defects. For more about warranties, click here.
The answer to my returns question is not here
To find out more about warranty claims, returns, guarantees and more, go to the Returns page to check your options, or get in touch for personal service.