Geib Gator 7.5" Straight Scissors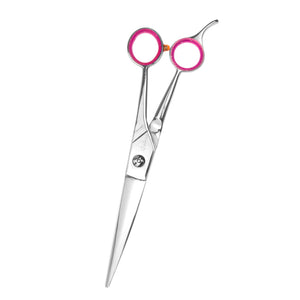 A slightly shorter 7.5" length traditional straight scissor. Popular when the standard 8.5" is too long, or when you mainly groom smaller dogs, or just prefer slightly shorter scissors. A popular level 1 scissor for initial block work or when you want one scissor to be as multi-purpose as possible without the cost of investing in a finishing scissor. A trusty, workhorse scissor. A favourite with beginners and student groomers, and with home users fed up with cheap 'pet scissors' going blunt, ready to upgrade to their first professional scissor. 
Popular choice for general body work. Fixed, integrated, curved finger rest. Symmetric, contoured handle with pink sparkle, removable finger inserts. Screw type tension adjuster. Decent weight with a nice balance and good user feedback. Fine micro-serration helps hold the hair to reduce slips or sliding.